Veryx
Veryx is a trusted provider of testing and network monitoring tools for equipment manufacturers, service providers, cloud providers, data centers and enterprise IT.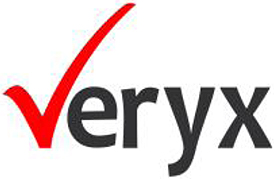 Veryx 網路協定符合性測試


Veryx technologies is a trusted provider of testing and network monitoring tools for equipment manufacturers, service providers, cloud providers, data centers and enterprise IT.

Our solutions give network service providers and equipment manufacturers the confidence that their services and equipment can deliver the best possible customers experience.


Veryx product family:


SAMTEST – for service activation, diagnostics and monitorin

PktBlaster – for performance benchmarking

ATTEST – for equipment testing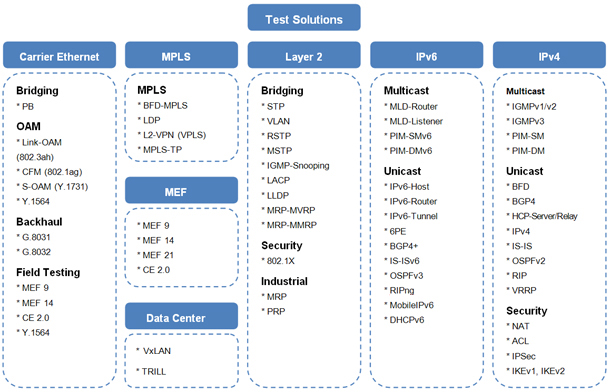 SAMTEST

Veryx SAMTEST provides a comprehensive combination of tests that cover ITU-T Y.1564, MEF CE 2.0, ITU-T Y.1731 together with other proprietary tests for quick and thorough verification of circuits before turn-up. Service Providers can be confident of the integrity of their networks with SAMTEST.

SAMTEST provides the efficiency and capability required by Service Providers to effectively roll-out and manage their Carrier Ethernet network services such as Cloud Services, Business Services and Mobile Backhaul. SAMTEST also enables the Service Provider to benchmark specific sections of Access, Metro and Core networks and expedites end-to-end troubleshooting.

Veryx SAMTEST framework aids network engineers in reducing the time taken to verify services, and supports easy configuration, CLI/ GUI-based access, easy debugging and detailed reporting. Its unique design results in minimal time for set-up and efficient use of time and resources.

Veryx SAMTEST facilitates:

Service Design: Veryx SAMTEST provides complete test coverage for MEF CE 2.0 to ensure the compliance of new services being designed to MEF CE 2.0 specifications.

Automated Service Activation: Veryx SAMTEST provides automated service turn-up testing and generates birth certificate reports based on pre-built, standards-based test scenarios covering 802.1 ag, Y.1731, RFC 2544, Y.1564 and CE 2.0.

Troubleshooting: Veryx SAMTEST quickly isolates issues related to connectivity, SLA and MEF attributes. SAMTEST comes with pre-built test scenarios specifically designed to facilitate diagnostics.

How It Works

The Veryx SAMTEST Service Assurance Solution consists of a central controller and distributed probes:
SAMTEST Controller is a centralized controller software that co-ordinates with Veryx Test Probes to initiate tests gather statistics and generate reports. SAMTEST Framework executes on the SAMTEST Controller hardware and comes an intuitive GUI that can be accessed via any browser.

Veryx SAMTEST Probes can generate Ethernet traffic of up to 1G to enable active testing of Service Attributes and SLAs as initiated by the SAMTEST Controller. The traffic generated by SAMTEST probes can be received at the other end by a peer SAMTEST probe, or looped back by a peer access device, to perform the required measurements.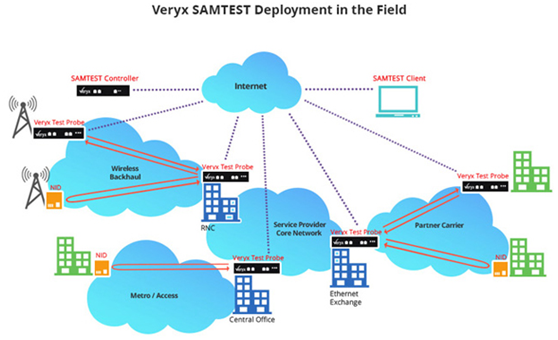 PktBlaster


Veryx PktBlaster provides network equipment vendors, cloud service providers, enterprise IT teams and data centers with easy and efficient tools for their custom testing and benchmarking requirements.

The Veryx PktBlaster product family includes the following products:

PktBlaster SDN Controller Test is a software based solution that runs on Veryx hardware or any other commodity hardware, and emulates hundreds of nodes and millions of flows, significantly reducing the need for large-scale physical network infrastructure for testing and benchmarking SDN controllers.

PktBlaster-S is a software-based traffic generation toolkit that runs on Veryx hardware or any commodity hardware, and is capable of generating stream-based traffic and analysis of received packets and significantly optimizes the usage of expensive traffic generation test ports for non-wire speed traffic generation requirements, especially for conformance and functional testing.
ATTEST

Veryx ATTEST Test Platform provides network equipment manufacturers and network service providers a comprehensive range of solutions for conformance, functionality and performance testing of equipment and networks.

Veryx ATTEST is an integrated testing framework which enables reduction of testing time. Veryx ATTEST has many tester-friendly features such as flexible DUT control, CLI/ GUI-based access, easy debugging and detailed reporting.
Veryx ATTEST 6.x Test Framework supports a flexible and distributed environment that caters to diverse test-lab requirements in today's dynamic conditions. ATTEST significantly speeds up the testing cycles and accelerates product development. Its unique design results in minimal time for set-up and enables efficient use of time and resources.

ATTEST Clients provide intuitive access to ATTEST 6.x Framework Servers executing on ATTEST hardware platforms.

Veryx ATTEST-CATS (Comprehensive Automated Test Solution) consists of ATTEST-XP and ATTEST-CTS ready- to-run automated test suites for a wide range of Ethernet and IP applications:

Veryx ATTEST-XP test suites provide tests covering a range of features including functionality, scalability, performance-measurement, interoperability, field-testing and deployment scenarios in multi-protocol topologies.

Veryx ATTEST-CTS test suites verify conformance to protocol standards.

Veryx ATTEST test suites are licensed as binary.

ATTEST test suites are based on the Veryx ATTEST Framework – a powerful environment that makes testing and debugging faster and easier. Test scripts are written in industry standard Tcl/Tk.

ATTEST test solutions are provided on customized hardware platforms with the required number of Ethernet test interfaces.